International Diploma in Personal Training (Practioner)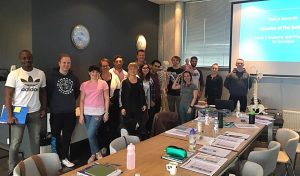 The FAF International Diploma in Personal Training course is a leading fitness certification course offered in Finland. All the teaching and materials are provided in English. This YMCA Awards diploma level education is also authorized by the Finnish Health and Fitness Center's Association (SKY ry). This means that after completion of the course you are also entitled to apply for membership of the Finnish Authorized Personal Trainer -register, in addition to the European Register of Exercise Professionals (EREPS).
In 1997, FAF became the first organization to offer Personal Trainer education in Finland. In June  of 2010, FAF also became the first CYQ (now YMCA) approved international fitness training organisation in Finland. Since then, FAF has offered the internationally recognized and highly respected YMCA Level 3 Diploma in Personal Training qualification.
Description:
FAF is the only organization offering the acclaimed YMCA International Diploma in Personal Training in Scandinavia. The program provided the candidate with the necessary knowledge and skills needed to work in a fitness center or as a self-employed personal trainer. After earning the International Diploma in Personal Training, the candidate will be able to provide personal fitness guidance, advice on nutrition, conduct a range of common health screening and fitness tests, plan and implement fitness programs to achieve their clients' specific personal goals.
In addition to receiving the highly respected and values diploma, the successful candidates will also qualify membership of the European Register of Exercise Professionals (EREPS), which enables them to work abroad as a personal trainer across Europe, as well as other far away locations, such as Australia, New Zealand and South Africa, where the REPS system of personal trainer standards are also used (n.b. this does not cover separate working or other visa requirements).
Course structure and content
The International Diploma in Personal Training program is taught in English. All the course manuals and materials are also in English. The program takes approximately 7-8 months to complete, which is comprised of 17 days (130 hours) of face to face learning, written reports and practical assessments, as well as the use of a comprehensive eLearning platform. During the studies, students will take four theory and two practical assessments.
No specific prerequisite qualifications are needed in order to enroll in this diploma course, as all required topics will be covered during the course. Hence, no previous education in the field of fitness and exercise is needed, and so it's suitable for anyone, including those looking to change from their current profession, whatever that may be. We will, however, interview all the course applicants to provide the opportunity for further discussion of course related information regarding, as well as to better understand each applicant's personal motivations and needs.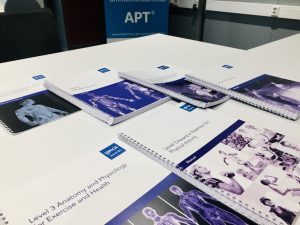 Modules:
Anatomy & Physiology for exercise and fitness
instructors

Lifestyle management and health awareness

Providing a positive customer experience in the exercise environment

Gym-based programme planning and preparation

Gym-based programme delivery and professional instruction

Applied Anatomy and Physiology
Promoting wellness through client motivation and interaction
Bespoke exercise programme design
Customised exercise programme instruction and communication  techniques
Nutrition to support physical activity
Business Acumen for Personal Trainers
The evaluation of the training consists of theory assessments, written tasks and reports, practical assessments, as well as successful completion of the online training component. After having successfully completed all assessment items, the candidates will receive both the FAF International Personal Trainer and the YMCA Diploma in Personal Training licenses. The successful candidates can then apply for level 3 EREPS membership. They will also be awarded 20 REPS approved Continuous Professional Development (CPD) points.
What do our students say?

   

Testimonials and feedback from current and former IPT students:
Roussel Dominguez,
Personal Trainer, Jiujitsu and boxing coach

"I successfully completed the 1 year personal training program in English proposed by FAF. It as been a very positive experience and enabled me to evolve professionally and personally.

One year ago, when I finally decided to look for a PT program, my first criterias were : a solid curriculum that provides a reliable diploma delivered by an accreditated institute. I had to sort out the real programs from the fake, to make sure I don't waste my time and money. After checking carefully online and asking to my Finnish friends who already work as Personal Trainers and physiotherapists, I chose FAF.

During this year I have been impressed by the quality of the courses, thanks to the level of expertise of the teachers at FAF. The teachers have the highest knowledge in physiology, anatomy, nutrition, sports science and still they are all active professionals. We studied the theory and using their own experience they gave us concrete tools to use with our clients.

The program is serious and demands a certain level of commitment. The studies take place every other weekend. It enables me to read and prepare well between the sessions while working and being available for my family.

We meet our teachers Saturday and Sunday, twice a month for a full training day. In general, the days are organized in two main parts : theory in the classroom and practice at the gym. The teachers are fluent in english and have international work experiences. We are able to compare different coaching cultures as well as sharing about various topics such as psychology or life.

I just finished the program. I feel confident and I am motivated to give to my clients the best quality of coaching.

If you are serious about becoming a certified professional Personal Trainer, I highly recommend you to choose FAF." 

---
Jaan-Erik Arnia, 
Philosopher, coach

"FAF's International Diploma in Personal Training got me thinking the whole fitness industry on another level.

To begin with having the qualifications for the PT education EREPS, being first APT -audited educational program, the only Scandinavian YMCA Awards accredited organisation for personal trainers shows in every aspects of the curriculum.

This quality is reflected not only by the staff's commitment but also through clarity of vision and integrity of the instructors engaged in teaching. There is a lot of information, but it is worthless without the hands-on wisdom and experience of FAF and FAF's instructors to lead personal training as well as fitness industry into the new paradigm of wellness.

This will not only elevate the know-how or personal trainers themselves, but most of all, the clients' life, well-being and their immediate social connections – the pledge for higher level awareness in producing modern-day eudaemonia and vitality through the physical and mental landscape with grace affects everyone involved – in most beneficial ways."

---

"Today I have been certified International Personal Trainer! Wow..what an achievement!

This is a personal "THANK YOU message" destined to the everyone from the FAF TEAM that has contributed for this to happen.

I appreciate the support I had from Minna for whatever need or administration questions I could have had. She has always been instantly responsive and took care of what ever paper work we had to deal with.

Concerning education, I really didn't expect it was going to be such a complete content package! With all my graduated friend, we agreed that we've got so much out of it!

Jyri said today :"you can put petrol in a car but you need to put the good essence in it! Or you wont drive anywhere!" WELL..HERE WE ARE NOW…WE ARE ON THE ROAD!

And I feel like FUELED with the right intentions!

Thats what I liked most of this programme!!

All mentors we had were genuine, with unquestionable knowledge but they also taught us to be a PT for the good reasons with good values and solid bases.

From Jyri, Wai, Laura and Tanja (and Tatu nutrition) , all of you shared your knowledge with passion.

I am proud to be label to this values with my FAF/YMCA PT degree.

Thank you everyone.

This is just the start….

Best regards."

Camilla

---

"High level teachers and education in overall."

"I feel that I got very good PT-abilities and confidence to start my career as a PT."

"FAF is very nice platform to upgrade fitness knowledge to any fitness trainer I feel glad to find opportunity to learn fitness knowledge under excellent teacher thank you very much to all. Being a total new comers to this field, I found the course content interest, challenging and well-designed."

"I am happy with my decision to invest into attending this diploma course."

"I am very happy with this programme, I learnt so much, it has been totally relevant for me that THIS IS really the path I wanna take in life, that I really want to invest myself into a trainer career and, since I´ve started the study case training, I found myself that I can even be good at it, because I love what I do, I want the best for my client and I'm overwhelmed of happiness to see her progress, or to hear her positives feedback on our sessions."
Greeting from IPT Senior Instructor Jyri Manninen:
What does it mean to be a FAF International Personal Trainer?
"With the level 3 YMCA Awards European Qualifications Framework (EQF) Diploma in Personal Training that you'll earn upon graduation, you'll become a member of a distinguished internationally recognized community of personal trainers. You'll really hit the ground running at the very start of your personal training career with a highly respected standard of education that not only allows you to work across Europe, but with a diploma that is recognized in more far away countries, such as South Africa, New Zealand and Australia.

Our classes are made up of students from many, many countries, such as the UK, the USA, Germany, Hungary, France, Monaco, Morocco, Iran, Nigeria, Spain, Romania, Estonia and, of course, from Finland too. Our FAF IPT courses really are a kind of 'United Nations' of personal trainers!

On an additional personal note, as a long term instructor in fitness and health education with over 25 years in the field, the group spirit amongst our international PT students is absolutely amazing. In fact, it's nothing like I've ever experienced before in any courses that I've previously taught on. All the participants, regardless of age, gender or professional background, gladly work and share together to enrich everyone's individual experiences. The bottom line is that our courses are not just about learning how to become a qualified, internationally respected personal fitness trainer, but they're also a fantastic opportunity for accelerating each student's general personal growth and development alongside a community of other like-minded colleagues.

So, to anyone considering the FAF International Personal Trainer course, I very much look forward to helping you at the start of your new and exciting career in fitness, health and wellness."

Best regards,

Jyri Manninen

Senior FAF IPT instructor

Website & contact: https://kajura.com
Will you come and join our ever growing family of present and past students?
The entire FAF team would certainly love to have you with us! In addition to Minna and Joni at the FAF office, Jyri is also available to chat with you about any aspect of the course and how it will lead you on a new, life changing journey towards an amazing future in the field of personal fitness training."
Note:
To contact Minna, Joni or Jyri, please send a message to 
[email protected]
 or use the chat feature on this homepage with any questions, queries or requests that you might have (you can also contact Jyri via his professional website).